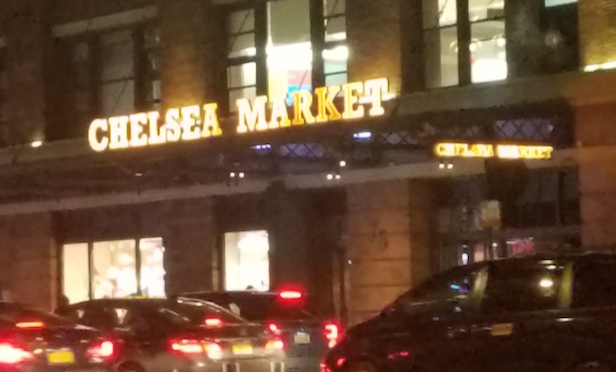 NEW YORK CITY—Google has agreed to buy the Chelsea Market building at 75 Ninth Ave. for more than $2 billion, with an anticipated April 2018 closing, as reported in the Real Deal on Tuesday. The 1.2-million square-foot office and retail property is currently owned and being sold by Jamestown LP, an Atlanta-based real estate firm. Real Capital Analytics notes the rumored selling price is $2.1 billion, approximately $1,750 per square foot.
Sources say CBRE is representing the buyer and Cushman & Wakefield is representing the seller, according to the Real Deal.
Jamestown had bought the Chelsea Market property in June 2011 for $793.5 million in a partner buyout from a joint venture of Angelo, Gordon & Co., Belvedere Capital and ATC Properties. The eight-floor structure built in the 1930s was 99% occupied. The price was approximately $661 per square foot. In Sept. 2003, Jamestown had bought a 75% partial interest in the property for $278.1 million from the same partners at approximately $253 per square foot. The sales data was noted in Real Capital Analytics.
On the ground level in addition to retail stores such as Anthropologie, Posman Books and Pearl River Mart, the food hall provides artisanal dining experiences such as a Japanese Mexican restaurant with sake sangrias and spicy tuna tacos. Upstairs, Google leases 400,000 square feet of space. Other office tenants include the Food Network and Major League Baseball.
In Dec. 2010, for $1.77 billion, Google had purchased the building across the street at 111 Eighth Ave., from a joint venture of Jamestown, Taconic Investment Partners and the New York State Common Retirement Fund. The sales price was approximately $598 per square foot. The 16-floor, approximately 2.9 million square-foot building houses Google's New York headquarters, and other office tenants. This data was also recorded in Real Capital Analytics.
Neither Google nor Thomas Sandlin, the spokesperson referred to by Jamestown, responded to GlobeSt.com inquiries at the time of the filing of this article.