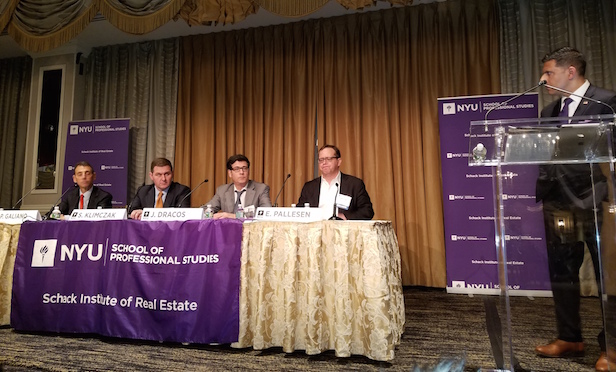 NEW YORK CITY—With the Trump administration's plans for a $1 trillion infrastructure proposal to follow its tax bill, the idea is heating up as a probable next topic of national debate and concern. Although the panel at NYU's Schack Institute of Real Estate did not discuss the idea of tax incentives to assist with private ownership of public infrastructure, they all agreed that cities have a critical need for safe, reliable and effective infrastructure.
Sam Chandan, the associate dean of the Schack Institute, moderated a panel discussion on global equity and infrastructure funding on Thursday. The speakers discussed how much the returns on real estate investments rely on infrastructure.
Panelist Paul Galiano, senior managing director and co-head of US acquisitions and global dispositions, equity capital, and joint venture programs at Tishman Speyer, pointed out that New York City's average stock of office buildings is now 75 years old. Developers can renovate but certain features such as 20 x 20 column spacing cannot be reworked to accommodate today's design choices (such as 60,000 square feet of column-free space).
To continue to be viewed as one of the financial capitals of the world, the city needed a way to develop new buildings that would be state-of-the-art, efficient, green and sustainable.
The rezoning of Hudson Yards and the city's investment in extending the 7 subway line made this possible. "Hudson Yards today is one of the most dynamic areas and clearly the hottest area from a leasing, capital value standpoint in all of New York," said Galiano. "That was really supported by the infrastructure."
He also described how Tishman Speyer devised an extremely successful investment strategy that followed London's Crossrail system.
Similarly, 15 years ago the company was focused on Midtown and the CBD. Looking for the next opportunity, they evaluated demographics and infrastructure and acquired over 3.5 million square feet of development rights in Long Island City, Queens. Two million square feet of this investment is currently under construction. Again, the 7 subway line was a major determining factor in this decision.
But who are private investors in infrastructure and what goes into their investments?
Panelist Edward Pallesen, managing director and head of the infrastructure investment group for the Americas at Goldman Sachs, said with infrastructure investments their strategy almost feels more like private equity than real estate transactions. They treat the infrastructure operations as companies and give ways to drive stronger risk-adjusted returns to improve the asset. This can include elements such as human resources, M&A and operational efficiencies.
Panelist Sean Klimczak, global head of infrastructure at Blackstone, says his three biggest investor categories are life insurance companies, pension plans and sovereign wealth funds. All of these investors have long-term horizons, long-term liabilities and long-term assets.
Panelist Jonathan Dracos, head of real estate investment of Investcorp, mostly works with foreign investors with pension funds and sovereign funds. Similar to Klimczak's clients, his investors are comfortable holding an investment for 15 years. Thus, they have a longer perspective than many other investors, although there are payout obligations.
With longer term investors, Klimczak has differentiated his services by investing and starting at the very early stage in the life cycle of the process. For example, his group built a power plant, with a long-term agreement similar to building an office tower with a 20-year lease. This developed into a major construction project. Blackstone will identify opportunities, permit the project, then finance, build and operate it.
Klimczak noted regulatory processes need to be streamlined. He said permitting projects can take more than 10 years in the US, compared to in Canada or Europe, where this can get done in two to three years.
"It's quite evident to us that the regulatory process today is broken. It needs to be fixed," said Klimczak. "I'd say the administration has heard that loud and clear and already is making good progress on that."
"We're all familiar with the permit with the Keystone pipeline with President Obama," he said. "We received half the presidential permits with that administration."
With the high cost of infrastructure projects, along with the longer timeframes required in many investments, the panel was asked whether securitization of aspects of infrastructure would develop in the future as a financial tool. Chandan noted structures for project finance are more rigid today but could evolve in the future.