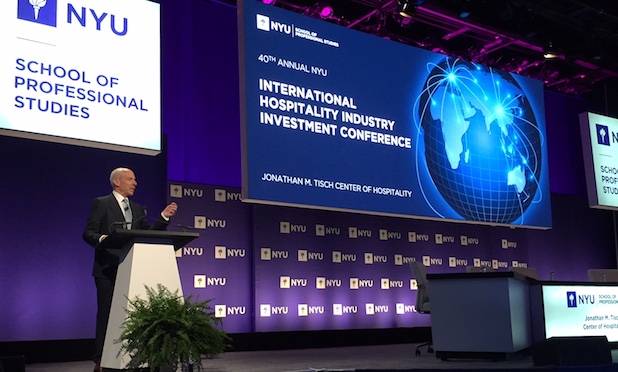 NEW YORK CITY—Travel and tourism are an $8 trillion market, approximately 10% of the world's GDP, and expected to increase by 44% in the next decade, said Jonathan Tisch, chairman and CEO of Loews Hotels & Co. He was addressing an audience at the 40th Annual NYU International Hospitality Industry Investment Conference.
But he warned, "Even though the global travel market is growing, the US share of the market fell nearly 13% over the past few years. That means we missed out on 7.4 million international visitors, $32 billion in lost spending at American destinations and businesses and 100,000 additional jobs."
Tisch pointed to Visit US Coalition data that by contrast indicated other countries including China, Germany, Australia, the UK and Canada are experiencing a rise in tourism.
He said many leaders in the hotel and tourism business believe America currently is giving off an unwelcoming message. As one example, he cited President Donald Trump's policy of "extreme vetting."
People in other countries are aware of the administration's travel ban, immigration policies, anti-globalist rhetoric, and recent call for a 25% steel tariff. These measures, promised by the "America First" campaign, seemingly catapulted Donald Trump into the presidency.
However, Tisch pointed out "If people don't feel welcome, they won't visit the US. They won't shop in our stores, eat in our restaurants, stay at our hotels and vacation at our destinations."
Tisch articulated the following four ways to turn the tide against the decline in US tourism.
First, the industry needs well-planned, proactive marketing. With intense global competition for travelers, he continues to support Brand USA, a public-private marketing organization focused on increasing international visitors to come to the US.
This was created by the 2009 Travel and Promotion Act. Funded by the international travelers and not taxpayers, last year it bought one million visitors and generated $8.5 billion for the US economy, according to Tisch. But he added the Trump administration has proposed its elimination. This reminded him that the industry must diligently protect its interests.
Second, stay on top of security concerns but with smart policies that are effective and efficient. Tisch stated under new policies, extreme vetting would apply to 14 million visa applicants. As an alternative, he supports an international travel security program which would require countries to share intelligence on suspected terrorists and criminals, upgrade security standards to a uniform level, and adopt e-passports which make forgery more difficult.
In addition he said advancements in technology such as facial recognition software and 3-D baggage scanners would make traveling safer.
Third, upgrade infrastructure, including airports, roads and bridges. Tisch noted smart road technology that assists in managing traffic is being rolled out in several states. As another example, New York City's MTA signal systems are being modernized to increase subway efficiency and safety.
He referenced President Trump's call for massive spending to upgrade the country's infrastructure. He agreed that this would be necessary to support growing travel and tourism.
Finally, Tisch pointed to overcrowding beyond airports and roads and at the travel destinations. As examples he said in Venice, the local population has dwindled to half its size as tourism grows in popularity. He described how in the US, national parks are beginning to feel the brunt of too many visitors.
He suggested that industry professionals market less congested, off-the-beaten path destinations. They can identify areas which need more infrastructure to accommodate the influx of tourists. Tisch also recommended that industry professionals work with communities to preserve historic and cultural areas.
"As an industry, we are uniquely positioned to help solve these challenges while growing the US share of the global travel market," said Tisch. "The future is ours to win. But we must compete. We must invest. We must innovate."