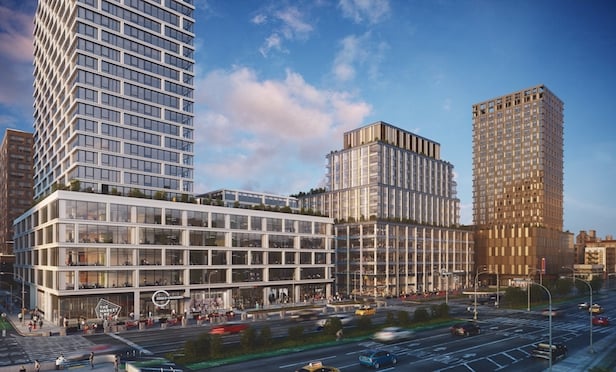 NEW YORK CITY—Delancey Street Associates closed on financing for the construction of 202 Broome St., a 14-story mixed-use building that will include 175,000 square feet of office space, 83 luxury condominiums and 34,500 square feet of retail that includes a section of the Market Line.
Square Mile Capital Management is providing a $260 million acquisition and construction loan. Construction is anticipated to begin in the coming weeks and the building is scheduled to open in 2021. The total development cost is expected to be $290 million.
"We continue to see very compelling opportunities for debt investments in the New York market," says Sean Reimer, VP of investments at Square Mile Capital Management. "The Essex Crossing project is a great example–a transformative development being created by a strong, visionary ownership group."
Essex Crossing is being developed by Delaney Street Associates, which comprises BFC Partners, L+M Development Partners, Taconic Investment Partners and Goldman Sachs.
Charles Bendit, co-chief executive officer of Taconic Investment Partners, noted the transformation from a parking lot to luxury condominiums, offices and retail will create a lively community at Essex Crossing. "With the closing and start of construction at 202 Broome, seven of Essex Crossing's nine sites are now either open or underway, residents are moving in, and much of our retail will open in 2018—including the first phase of the Market Line," says Bendit.
Also known as Essex Crossing Site 3, 202 Broome St. was designed by CetraRuddy. It is the final site of the project's second phase. HFF's Evan Pariser and Scott Aiese arranged the financing.
Delaney Street Associates has now closed on $1.3 billion of the project's overall $1.5 billion in financing. Approximately 90% of Essex Crossing's financing is now secured, and roughly 90% of its square footage is under construction.
"Our investment in the project, which now totals nearly $500 million, is our largest to date, a recognition of its importance to this diverse and vibrant community," says Margaret Anadu, managing director and head of the Goldman Sachs Urban Investment Group.
202 Broome will provide Class A office space on floors two through five, and luxury condominium units on the sixth through 14th floors. The office space will include oversized windows on all four sides with views of the Midtown and Lower Manhattan skylines.
The building's lower level will house a segment of the Market Line, an expansive, marketplace bazaar, spanning 700 feet along Broome Street. At 150,000 square feet, it will house vendors of food, fashion and culture, with markets, a beer hall, and gallery and performance spaces. In February, the Market Line announced its first batch of tenants, which include outposts of popular New York food establishments, Veselka, Nom Wa Tea Parlor and market and butcher shop Schaller & Weber.
The Essex Street Market, which has been a part of the Lower East Side since 1940, will be next to the Market Line. The first phase of the Market Line and the new Essex Street Market will also open next year at 115 Delancey St. (Essex Crossing Site 2). Until then, the current Essex Street Market will remain open for business.
Residents continue to fill the housing at Essex Crossing. In February, the Rollins opened its doors at 145 Clinton St. and began leasing for 107 residences. Later this year, the Rollins will also add a new Target and Trader Joe's. Sales have surpassed 50% at 242 Broome, a 55-unit luxury condominium building expected to open later this year. This building will also house the International Center of Photography, expected to open in 2019. Across the street, at 115 Delancey St., rental leasing is expected to begin later this year.
In November 2017, Delaney Street Associates launched phase two of Essex Crossing, with construction at 140 Essex St., which includes affordable housing for seniors as well as ground floor retail space. The building is expected to open in 2019. Construction at 180 Broome St. began in January of this year and is anticipated to be completed in 2020. This development comprises office space, market rate and affordable rental units, and retail.
Essex Crossing consists of 1.9 million square feet of residential, commercial and community space. The nine sites on six acres had sat mostly vacant since 1967. The development, which will include 1,079 units upon completion, represents one of the most significant urban renewal projects in the history of New York City.