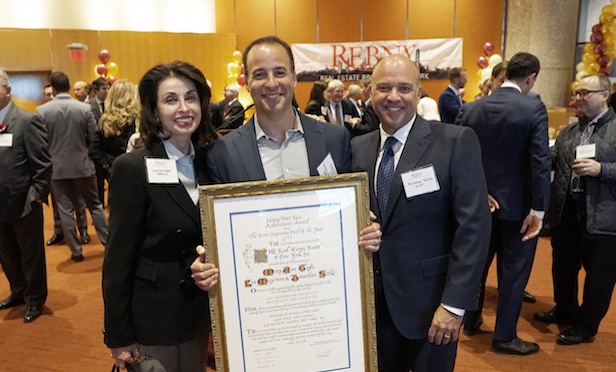 NEW YORK CITY—The Real Estate Board of New York announced winners of the 2017 Sales Brokers Most Ingenious Deal of the Year Awards at the sales brokers committee's 74th annual cocktail party on Tuesday night at Club 101 on Park Avenue.
Mary Ann Tighe and Ken Meyerson of CBRE, and Jonathan Serko of Cushman & Wakefield, were honored with the first prize, the Henry Hart Rice Achievement Award. Along with CBRE's Brendan Herlihy and Cushman & Wakefield's Richard Serko and Ed Donnery, they worked with 1199SEIU United Healthcare Workers East and the 1199SEIU Benefit Fund for Health and Human Service Employees to consolidate the union operations into one building, signing a lease at George Comfort & Son's property located at 498 Seventh Ave. The space was formerly occupied by the media investment company GroupM.
Over 12 years, the brokers identified and negotiated the leases for 1199's two affiliated, independent groups, for 180,000 square feet for the healthcare workers' union and 400,000 square feet for the benefit fund. The brokers addressed the requirements of 400,000 union members and resolved the expiring lease at 330 West 42nd St., while accommodating growth needs. The union has long owned the building at 310 West 43rd St. which previously housed their headquarters.
REBNY titled the accomplishment the "Union of Rivals: CBRE and C&W Find 1199 a Home" commending the bringing of the two 1199 entities entirely under one roof with exclusive lobbies, dedicated elevators, an escalator, auditorium and cafeteria. The move also relocated 1199's tiled mosaic honoring Martin Luther King Jr. The artwork bears the phrase, "If there is no struggle, there can be no progress," by Frederick Douglass.
The Robert T. Lawrence Memorial Award was presented to Mark Weiss and Richard Bernstein of Cushman & Wakefield for repurposing a 67,000 square-foot commercial condominium, four floors at the base of 625 West 59th St. The building is a 43-story, luxury apartment property at One West End Avenue.
The renovation converted space into a dormitory for the buyer, Touro College. While the property was still in development with Silverstein Properties and the Elad Group, Weiss and Bernstein worked out a redesign to accommodate Touro's dormitory needs.
Geoffrey Newman of Newmark Knight Frank won the third prize, the Edward S. Gordon Memorial Award for the development of Continuum Companies' Madison Square Park Tower, a 200,000 square-foot luxury residential building with 83 units at 45 East 22nd St. Newman assembled eight contiguous parcels' worth of transfer development rights from adjacent properties, in addition to 62,000 square feet of inclusionary air rights from Arker Companies' 50,000 square-foot low income housing development at 257 West 29th St.
"These highly complex commercial real estate deals required great vision, depth of market knowledge and technical skill from each of the brokers to achieve ingenious solutions," said John H. Banks, REBNY president. "We are proud to honor their exceptional accomplishments and recognize all of the submitting brokers' outstanding work in navigating transactions that are important to our industry and our city."