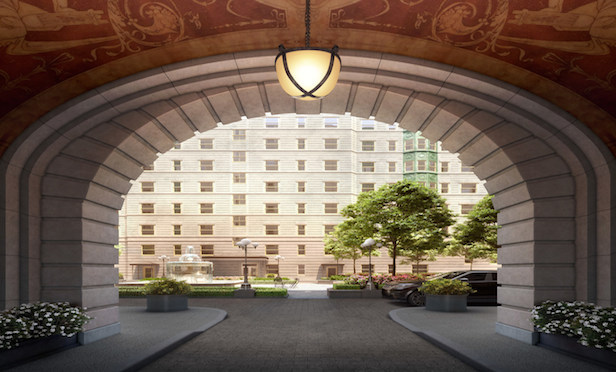 NEW YORK CITY—An affiliate of Westbrook Partners has acquired an equity stake in the storied Belnord luxury condominium project on the Upper West Side.
HFZ Capital, the owner of the Belnord that is currently being redeveloped from a rental to luxury condominium property announced the partnership deal with New York City-based Westbrook Partners. No financial terms of the transaction were reported. Adam Spies and Doug Harmon of Cushman & Wakefield were advisors on the transaction.
HFZ Capital acquired the 14-story, 226-unit property in 2015 from Extell Development for $555 million. The circa 1908 building, which occupies an entire block between 86th and 87th streets, also includes 25,000 square feet of retail space.
Robert A.M. Stern Architects is designing the redevelopment of the property at 225 W. 86th St. that also includes two grand archways that border one of the city's largest inner courtyards.
"We are thrilled to partner with Westbrook Partners, one of the world's most respected and successful institutional investors, as we carry out our vision to transform the Belnord into a compelling luxury residential development that is unlike anything on the Manhattan market today," says Ziel Feldman, chairman and founder of HFZ Capital. "Our partnership with Westbrook Partners is the ultimate validation that the Belnord is ideally positioned for success."
"The Belnord is one of the most iconic residential properties in the city," says Paul D. Kazilionis, chairman and CEO of Westbrook Partners. "Westbrook Partners is excited to partner with HFZ Capital in developing the Belnord's residences into for-sale luxury units for the first time in the property's 110-year history."
Sales at the Belnord are expected to begin this spring. Douglas Elliman Development Marketing is exclusively handling marketing and sales at the property.